Product Description
Information:
Our Frosted series Matt Glass mosaic tiles Glass mosaic is floor and wall covering materials. It is tile gluing on a paper or a net which makes it easy cutting and can fit into any surface including corner, column, curve wall, ceiling. And thanks for its glass nature, the glass mosaic can be used in any environment such as under water, outside building, under sunshine, along the seashore. Glass mosaic can be used at any place that you want it to so that give it the great business potential. Our company's products use hot melt glass,so colors will never fade away,and Good quality adhere which sticked very firmly and avoid the piece go off.
We have More product :Hand Cut Pattern Glass Mosaics,Pixel Pattern Glass Mosaics,Nebula Gold Line Glass Mosaics,Honeyberry Glass Mosaics,Stone Like Glass Mosaics,Animal Glass Mosaics,Plants Glass Mosaics,Swimming Pool Pattern Glass Mosaics,Landscape Glass Mosaics,Oil Painting Glass Mosaics ├─15*15*4mm Square Shape Glass Mosaics.

What are the advantages of our glass mosaic products?

1.Strong independent design and development ability, constantly research trendy and unique elements and develop new and marketable products.

2.Has a wealth of experience and technology in the production of molten glass mosaics.

3.Our products is popular with US market, we participate in oversea fair every year, which make us familiar with market trend.

Surface

The surface is matte.

Color

The main color is mixes.

Advantage

Zero water absorption,anti-oxidation, anti-chemistry.

High and low temperature resistance.

Easy to install, maintain and clean.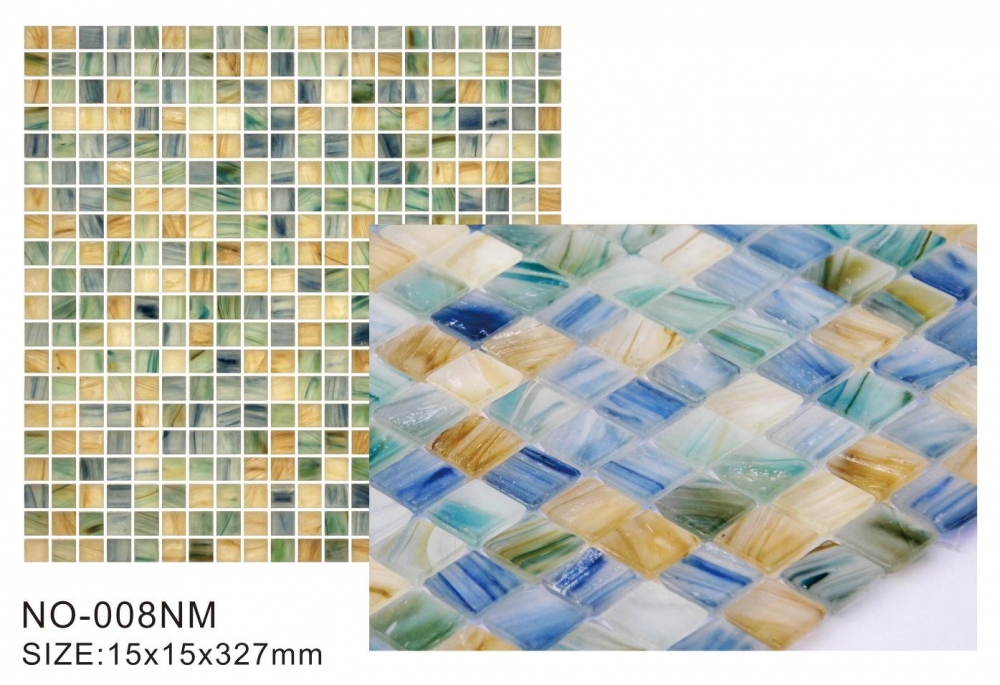 Therefore, glass Mosaic is practical not only strong, and also can have the effect that decorates the house such as the sitting room.If you like, please contact us for more details.This glass mosaic has a variety of colors and patterns to choose from, which can be matched as you like. You can also look at the store's other collections in different styles.
Our products have quality assurance, thank you for choosing our products!
About our company:
Gong Loon Industries Limited was established in 1986 . We are manufacturing the quality glass products, e.g. glass mosaic tiles and container of glass for different pattern of industries. Headquartered in Hong Kong, with factory in Jiengmen, China. Our factory plants around 36000 sq. meters and around 400 employees. In 1998, we launched the private brand: HK Pearl to entry the oversea markets, up to now, We have been shipping glass products worldwide for 20 years to over 70 countries, especially in U.S.A, Europe and Asia Pacific. As a manufacturer of glass products in the world. High quality, competitive price and after sales services are essential elements.