Product Description
Product Description
The Principal
When the power is off the liquid crystal molecules are randomly oriented and will scatter incidental light. This renders the Switchable Privacy Glass panel opaque.
When an electric current is applied, the liquid crystal molecules line up, the incidental light passes through, and the privacy glass becomes clear.
Privacy Glass is a laminated glass. The laminated material within is Liquid Crystal Privacy Film, which responds to an electrical current.
When electricity is applied to the film via the wiring, the liquid crystals align and the glass instantly becomes clear. When the power is turned off, the liquid crystals return to their normal scattered positions rendering the glass an opaque translucent.


Clear Switchable Smart Glass
Tempered Clear Switchable Smart Glass
Smart transparent film technical diagram
Technical Principle
In the natural state, the liquid crystal molecules inside it are arranged randomly, the refractive index of liquid crystal is lower than that of the polymer outside, and the incident light scatters in the polymer and is milky white, that is, opaque.After electrification, the droplets in the dispersed liquid crystal polymer are rearranged, and the liquid crystal changes from disorder to directional order, so that the refractive index of the liquid crystal is the same as that of the polymer, and the incident light can completely pass through, forming a transparent state. Intelligent dimming glass can be based on different occasions, such as mood, functional requirements can change the mood of the glass in a flash, the function such as demand can change glass appear a performance in - instantly, truly achieve the "the effect of light with me to move, it also is the magical thing about this state of the user can conveniently control switch, switch or remote control, slightly press can shape the privacy, effectively protect the individual privacy space.
Product Parameters
Item




Mode

Specification

Optical Parameter

Visible Light Transmittance

Power on




>83%




Power off




>53%




Parallel Light Tansmittance




Power on




75%




Power off




<2%




Haze




Power on




<4%




Power off




>95%




Viewangle




Power on




>150°




Electrical Parameter




Operating Voltage




Power on




AC48V-65V/ 50Hz




Response Time




Power off-on




<200ms




Power Dissipation




Power off-on




6-8 W/㎡




Size Parameter




Thickness




0.38mm




Maximum Size




6000mm*2000mm




Operating Parameter




Operating Temperature




-30°C-50°C




Storage Temperature




-40°C-70°C




Service Times




Power on




>12 years




Switching Times






>2 millions



Intelligent Glass
Application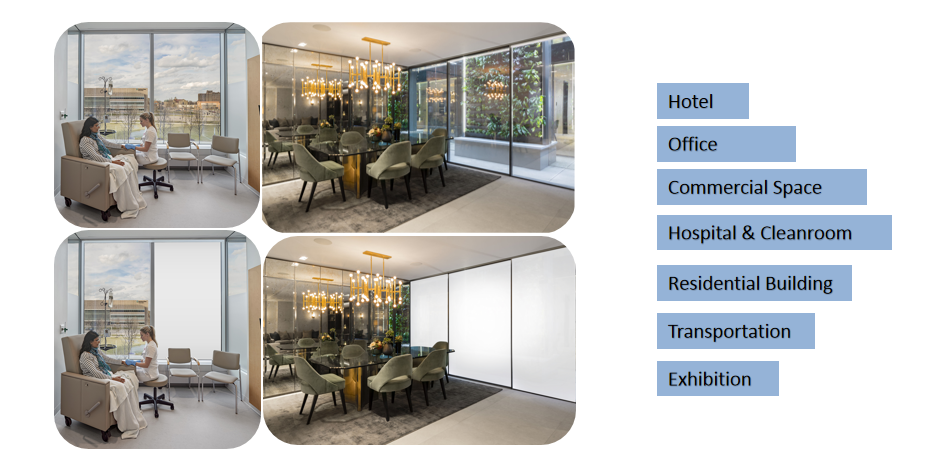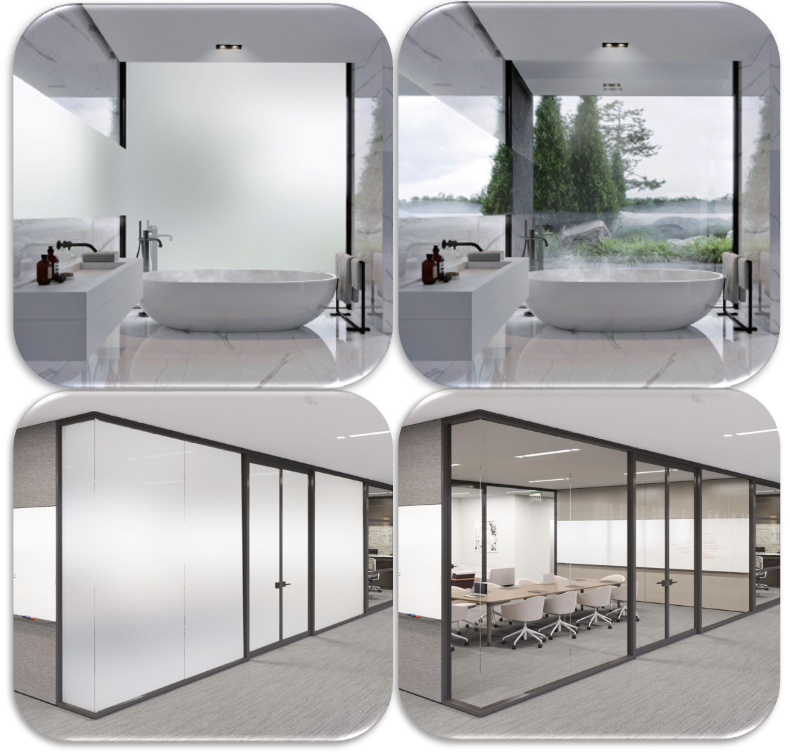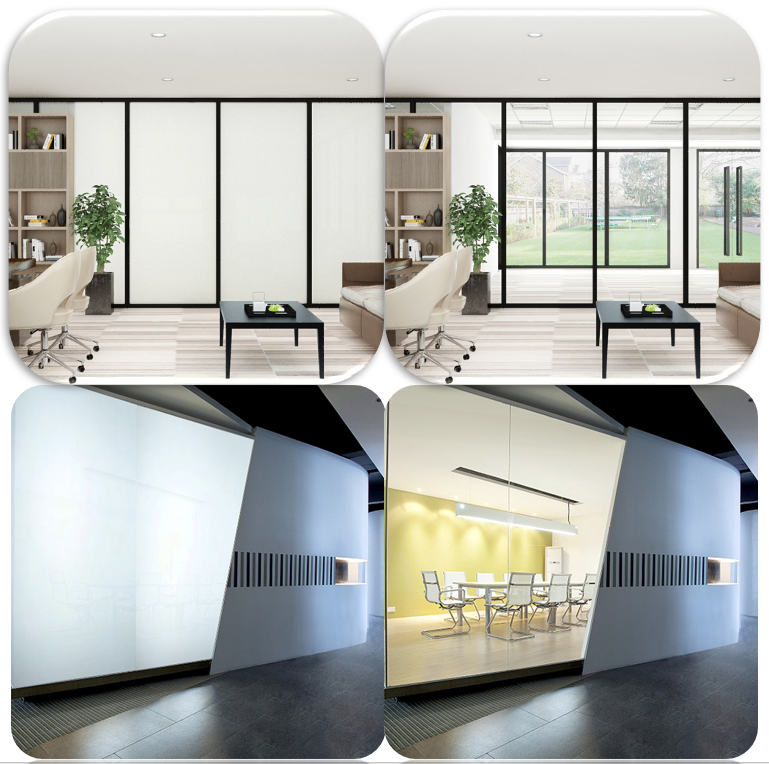 Laminated Glass Switchable Pdlc Smart Glass Privacy Film Tempered Glass
Factory
After sales & clients comments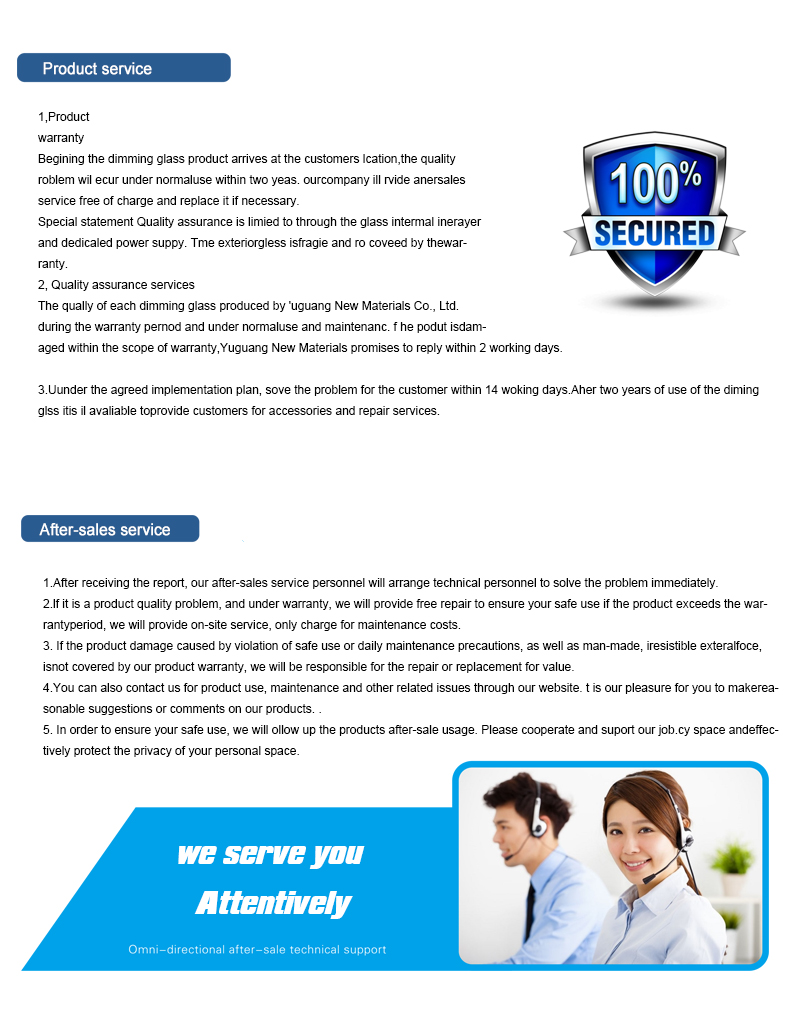 FAQ
1.Does smart film privacy film blocks harmful UV rays?
Yes, it can block over 98% of the harmful UV rays.
2.Is smart film energy efficient?
Yes, it's a green product that only consumers 6-8 W/㎡.
3.Can customers install smart film by themselves?
Yes, we offer a complete installaion kit if needed, meanwhile,we supply instruction video for customer preview.
4.How can I purchase or get a quote?
Please send inquiries to us. You can also add WhatsApp or Wechat. WeChat/WhatsApp ID: 18928491926
5.What is the difference between self-adhesive PDLC film and PDLC film?
Self-adhesive PDLC film can be pasted on the normal existing flat glass directly. PDLC film is the material which can be processed to smart PDLC glass. It must be putting into two pieces of glass, by EVA films' bonding so as to form a sandwich structure.
6.Do you offer smart glass?
Yes, we customized smart glass according to customers' requirements.
7.Can you project on smart glass?
Yes, smart glass can be used as a rear projection screen.