Product Description




Magsafe Wireless Charger Phone Stand Magnet, If you put a figure on your desktop or car that can charge your mobile phone and automatically unfold angel wings, what would it be like? This is what we want to recommend Chengrong to go up to the wireless charger, it is faster than the original Apple as a wireless charger, compatible with iPhone 12.

Although many mobile phone holders are relatively easy to use, they are relatively ordinary in terms of portability and inconvenient to carry around. The CHENGRONG mobile phone holder adopts an integrated folding storage design. After being folded, it is about the same size as a business card. It is more suitable to be placed in a clothes pocket, trouser pocket or bag, and it can be easily carried even when shopping.







We all know that playing with a mobile phone is bad for the cervical spine. Everyone knows the truth, but can't bear the infinite charm of mobile phones.

After reading the online tutorial on "Seeing the correct posture of the phone", to put it simply, the height of the phone screen should be the same as the line of sight, almost on the same level.

The desktop mobile phone holder solves the pain of cervical spine in these years, greatly improves the experience of using the mobile phone, and is the most practical life good thing used in the recent period.

Chengrong source factory in leading of Phone Holder, Phone Holder Ring, Phone Holder Stand, Phone Holder Magnet, Phone Holder USA, Cell Phone Stand, Cell Phone Stand Aluminum, Wireless Charger Phone Stand etc. for more than ten years.




Magsafe Wireless Charger A Phone Stand for Tikok,

Magsafe Wireless Charger Phone Stand for Iphone12, Multi-angle adjustment, can be adjusted to the suitable angle. Designed for Magsafe, suit for iPhone 12 Pro Max, iPhone 12 Pro,

iPhone 12, iPhone 12 Mini, exquisite magsafe partner, easy to remove, lift the phone from the bottom to remove it. Suitable for diffferent viewing mode, meet all your needs, free your hands make life easier, working, online course, video call, cooking etc.




Product parameters

Model:CR-H3

Name: Magsafe Wireless Charger Phone Stand

Raw Material:5052 aluminum alloy+silicone

Thickness of Plate: Plate of Top 2.5mm/ Plate of Bottom 2.5mm

Color: Silver/Gray/Customized

Apply to: Original Magsafe Wireless Charger

Specifications of Package

Product Size:138*77*14.8mm

Box Size: 141*79*16mm

Product N.W.: 94g

Product G.W.: 102.5g

Carton Size:445*295*255mm

Carton G.W.: 16kg




Product Features

1: Solve the pain points of magsafe wireless charger design, support one-handed pick-and-place of mobile phones, simple operation;

2: Adapt to the official original magsafe wireless charger;

3: Use aviation-grade aluminum alloy materials to pursue excellent quality;

4: Aesthetic lines; the charging cable can be stored in design; not only good collection, but also "beautiful" collection;

5: Ergonomic design, support multi-view adjustment;

6: It can be folded and does not take up space, and it is convenient to carry on business trips and travel;




Wireless Charger Stand, designed for Apple MagSafe, Stand compatible for Magsafe Charger

Source factory phone stand designed for original Apple Magsafe Charger only

The charger stand for Magsafe is a perfect product for our Apple fans.

Not only it can keep your Magsafe in the fixed place but also it is a great phone stand for your Iphone, which is more convenient to watch movie, browse the page, play games etc.




Different Viewpoints

You can switch landscape or portrait mode freely according to your need.

Perfect matching, desktop partner, foldable&portable.

Before purchasing, please check the below information:

1. Please make sure your device is Original Magsafe, this stand is not suitable for other brand.

2. The phone with defender cases can't charge and sucked on Magsafe,make sure your Phone Case is MagSafe phone case before charging.

3. Only the backnear the logo of the iPhone 12 series phones have magnetism.The phone will not slide down as long as your phone is ligned to the rightplace and sucked on MagSafe.




Product Pictures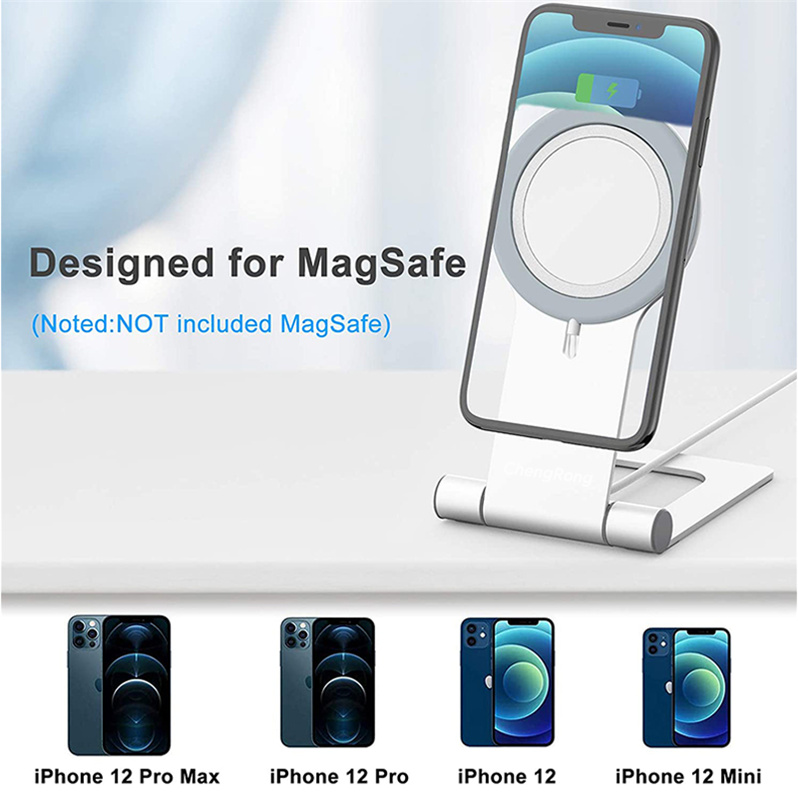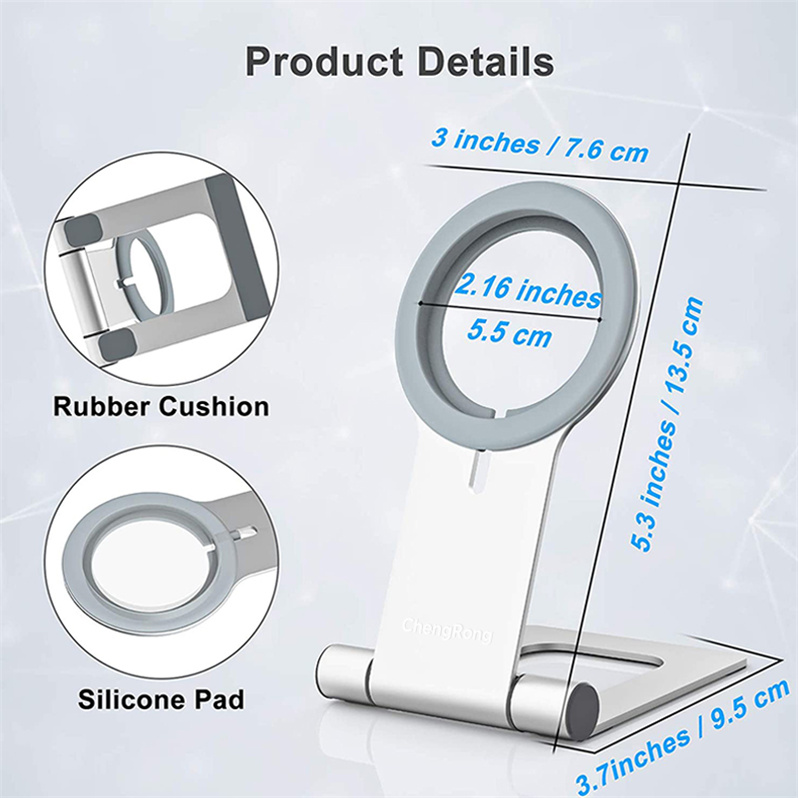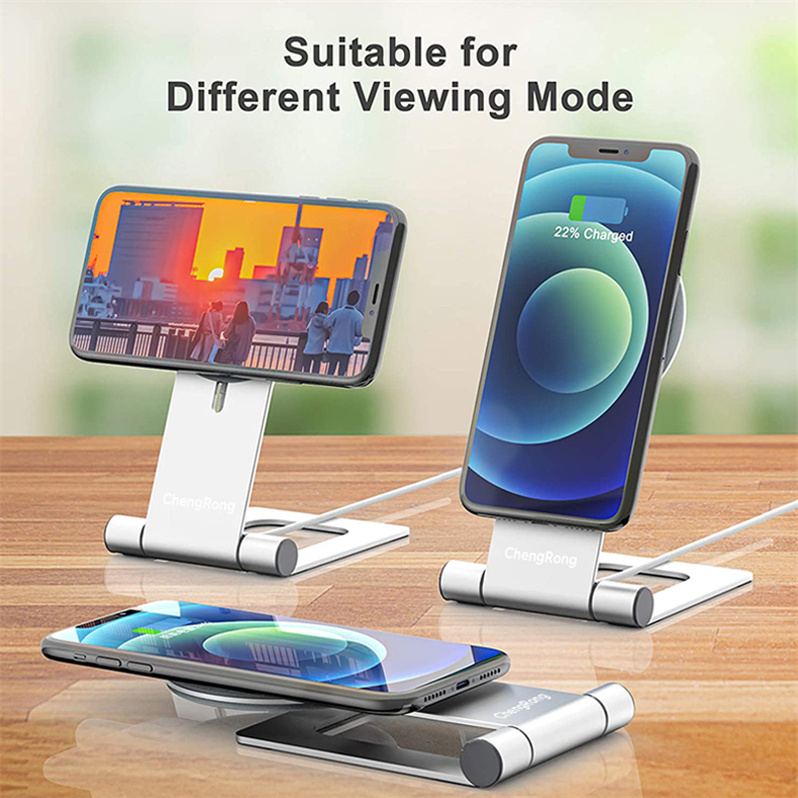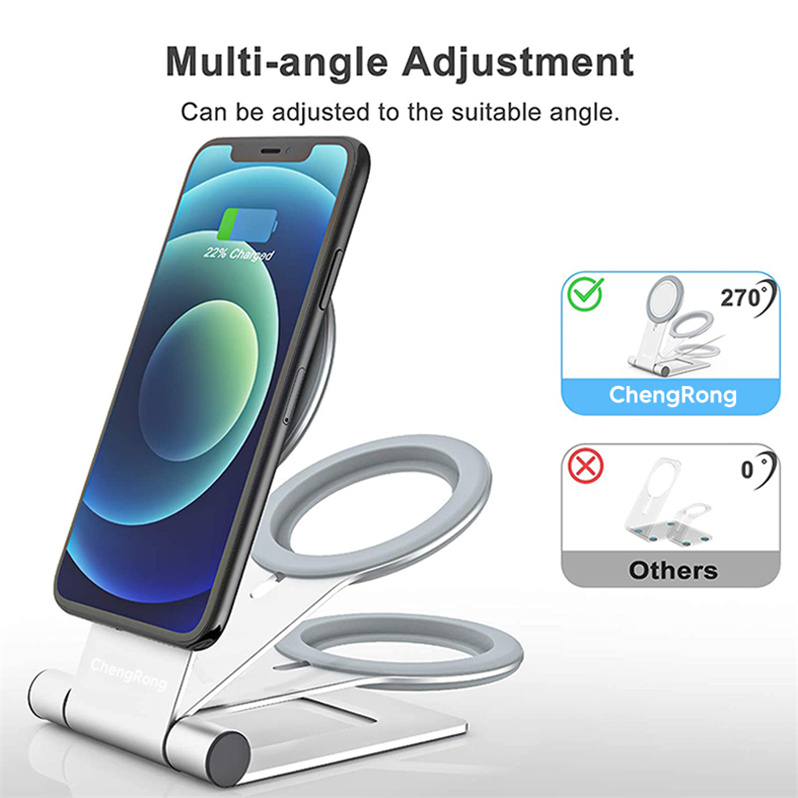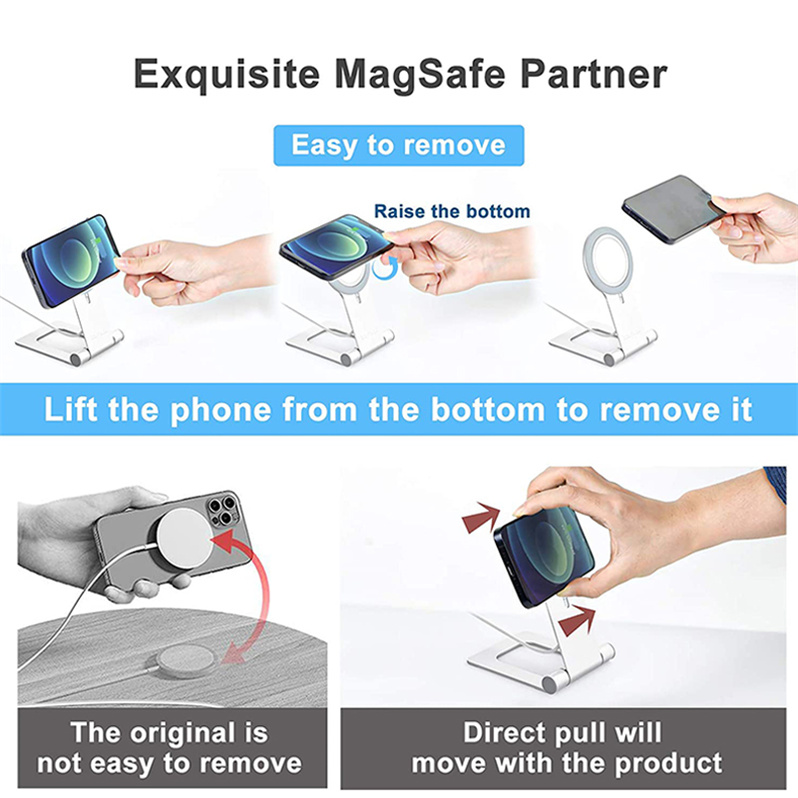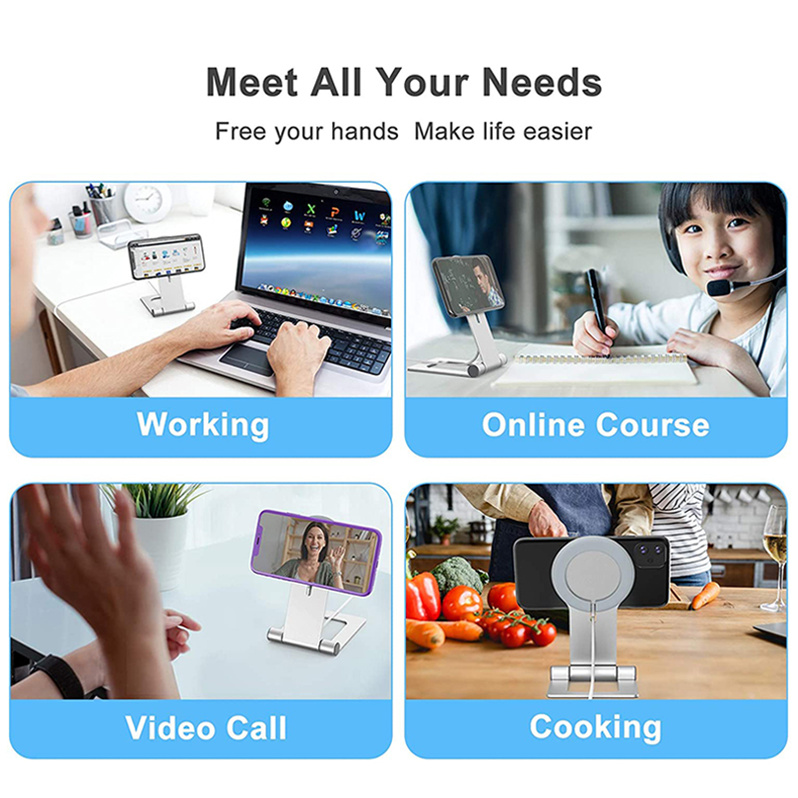 Good Feedback from Customer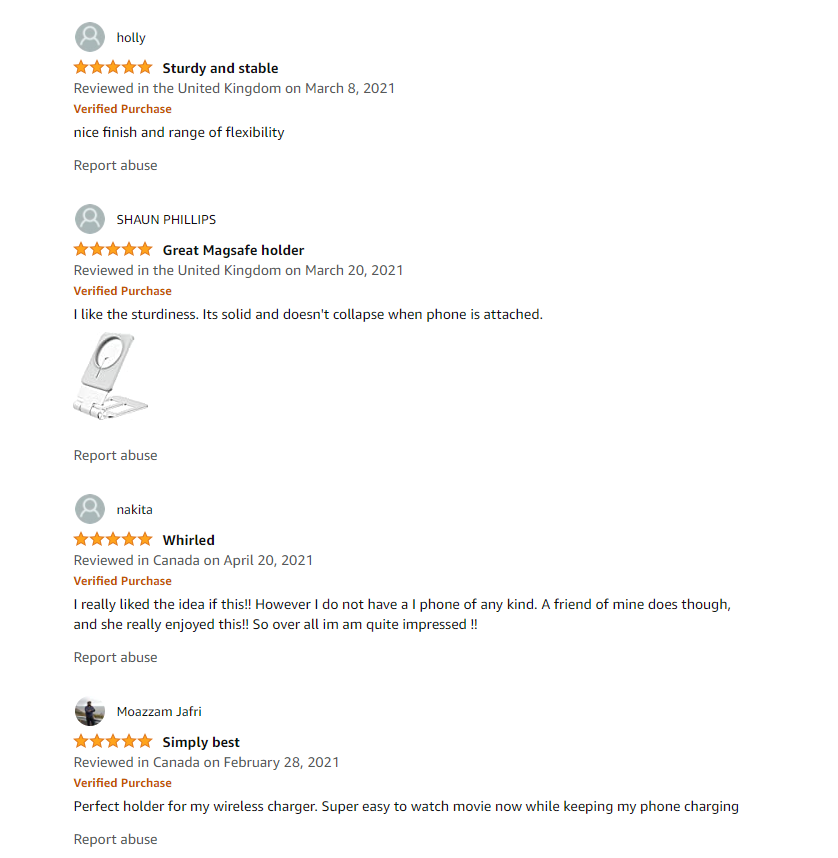 Company Informations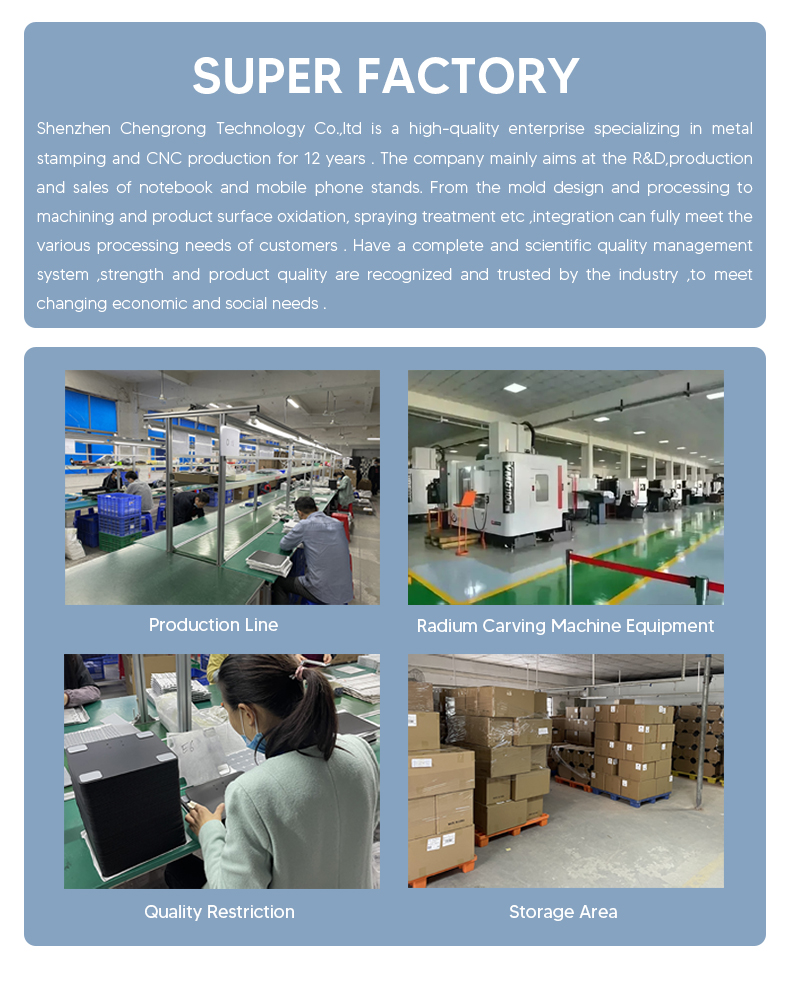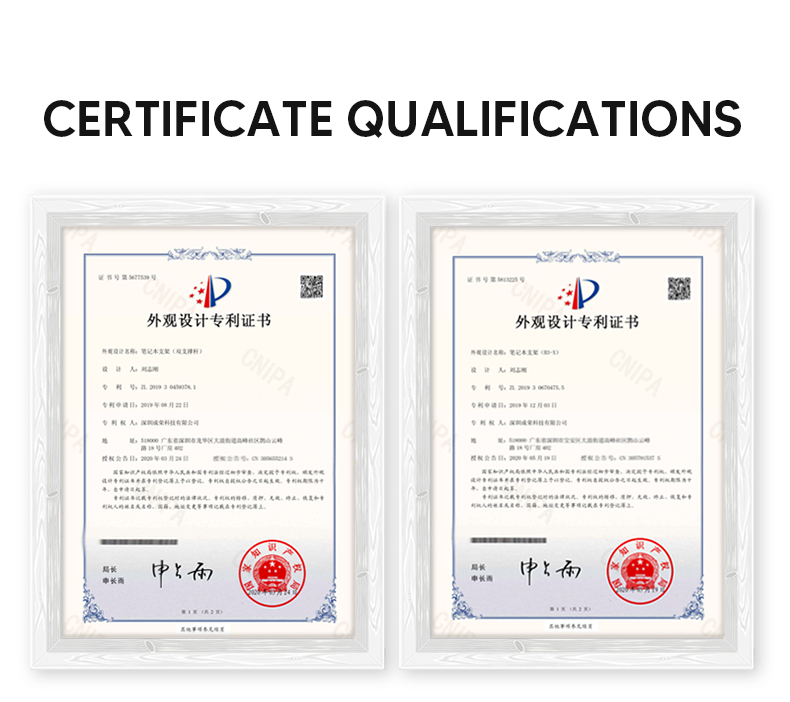 We're a high-quality enterprise specializing in metal stamping and CNC production for 12 years. The company mainly aims at the R&D, production and sales of Notebook Laptop Stands and Mobile Phone Stands. From the mold design and processing to machining and product surface oxidation, spraying treatment etc ,integration can fully meet the various processing needs of customers. Have a complete and scientific quality management system, strength and product quality are recognized and trusted by the industry, to meet changing economic and social needs.
Our advantage
1. 2020 annual sales more than 13 Million Dollars.
2. Factory workshop: 9000sq.m
3. R&D team:5persons
4. QC department:18persons
5. Monthly capacity:210,000pcs
6. Patient certificates
7. Main market:20% in Japan, 50% in USA, 30% in Europe and other countries
Our Service
1.Verified Manufacture,over 12 years stamping and CNC production Experience
2.OEM and ODM acceptable
3.Necessary certificates provided quality
4.Prompt reply, professional in global transaction
5.Stable production capacity and skilled-workers
We are attracting global investment and seeking long-term strategic cooperation with major retailers, wholesalers, and distributors. 7/24Hours hotline service for you ,please contact Ms.Kiki , welcome your kindly inquiry !